We would like to invite you to Elliott Heights Baptist Church. Our Fellowship time is at 9:30am which includes tea & coffee. Then at 10am, we have our Sunday service.
If you prefer to join us online, our livestream begins at 10am. Please click on the link below to join the Livestream.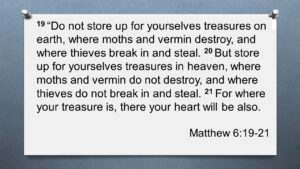 As a church, we have begun a new challenge called "Bible Passage of the Month". On the first Sunday of each month, we will receive a Bible passage with the goal to memorize it. What a great opportunity to encourage each other to memorize God's Word.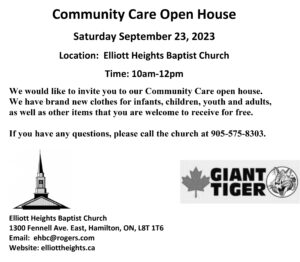 We have our Fall Community Care Open House taking place September 23, 2023 at the church from 10am to 12pm.
Giant Tiger has partnered with our Larch After School Ministry for several years, as they helped fund our program in various ways.
In October 2020, Giant Tiger began to assist us in being a blessing to the community. Each month they donate brand new products to help make a difference on the Hamilton East Mountain. Each time we receive enough items for an open house of blessing…. we organize one at the church.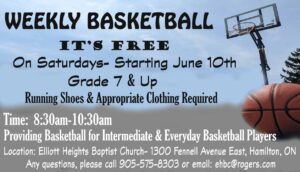 We would like to invite everyone who is grade 7 & Up to join us for our Saturday morning basketball from 8:30am to 10:30am. A time of basketball skill training, pick up basketball games, circle meetings which includes "bible verse of the week" and prayer. The only Saturday that has no event is on Canada Day Weekend.
This event is free and water is provided.
Growth Essential Class-
Starting September 24th
The Growth Essential Classes are on hold for the summer. Starting in September on Sundays @ 11:30am, we will have our Adult Growth Essential Class series called "Discipleship Coaching". God calls us to go and make disciples… teaching them to obey everything God has commanded you (Matthew 28:19-20). What does that look like? How does one do one-on-one discipleship with someone?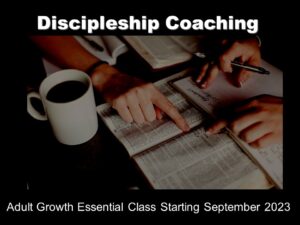 Small Groups
–
Thursdays @ 7pm
On Thursdays @ 7pm, we have our Small Group Ministry called "Open WEE Group". Everyone is welcome. Our main focus in getting together is three fold: 1) To further discuss Sundays sermon and how it applies to our life 2) To be an encouragement to one another 3) To elevate one anothe
r through prayer.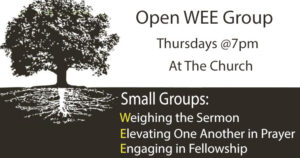 Men's Bible Study
–
Starting September 13th
On Wednesdays @ 10am, our Men's Bible Study meets in the church library. It will be a time of coffee & fellowship as they do a study on the book of 1 Peter.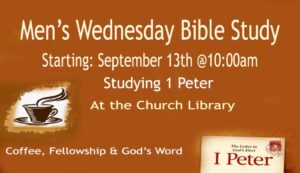 Young Adult Ministry
On Mondays, our Young Adults meet together at the church for 7:30pm. Each week they alternate from event 1 and 2. Event 1 is a time of fellowship, prayer, and studying the Bible together. Event 2 is a fellowship time together. We will begin our new series from the book of James on Monday September 11th.
Our Young Adult Group also does outings together on a Saturday every other month. Our last outing was having a BBQ meal together.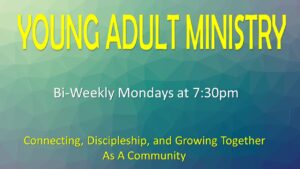 We have our Jr. High Ministry & our Sr. High Ministry that takes place each weekend.
Jr. High- Fridays at 7pm
Sr. High- Saturdays at 7pm.
Each event is planned with fun games, fellowship, and a time to discuss truths from the Bible. If you would like the schedule, please email the church at ehbc@rogers.com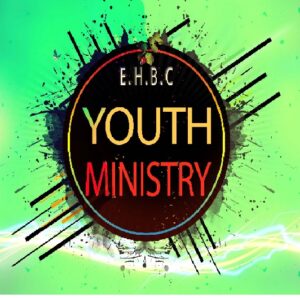 Young @ Heart- Our 50 Plus Ministry
Our next event is on September 21, 2023
On the third Thursday of the month, we have our Young @ Heart event at 12pm that includes a wonderful lunch, fellowship, and a themed event. If you would like more details, please send an email to the church ehbc@rogers.com